Roots Type Blower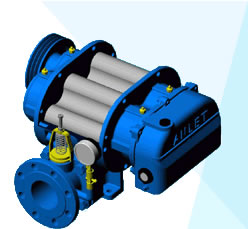 Over 1,200,000* pumps made!Enjoy the proven performance and reliability of the Anlet roots type blowers.

*aggregate total

Initially, nearly all blowers were the two-lobed type. Despite offering low noise, low vibration, and high efficiency, the three-lobed type was not produced because manufacturing it was difficult. Only Anlet Manufacturing rotors of high precision and also at low cost became possible through use of dedicated machining equipment for three-lobed blowers that only Anlet holds patents for, and Anlet succeeded in becoming the first in Japan to achieve volume production of the three-lobed type.
Feature of Anlet Roots Type Blowers
The three-lobed rotor and double-helical casing provide nearly no-noise, no-vibration operation, and the endless-casing design achieves energy savings.

There is no oil mixing, so the air obtained is clean, with no contamination of surroundings due to oil-mist spray.

The rotor and shaft have been combined into an integral unit and no wear occurs, enabling long-term continuous operation with no change in blower performance over time.

High-speed, high-performance applications are possible. Design is also extremely compact.

Design is simple, and the adoption of lubricatable special bearings ensures outstanding durability.

The unit is equipped with a gear oil overshooter to prevent any oil leakage problems.

A rich line-up of models enables selection of the right type for the application.
Examples of Usage of Roots Type Blowers
Water Treatment

In water treatment, warm-air blowers are indispensable for aerating septic tanks at residences, factories, schools, hospitals, and other facilities. Diverse types of blowers, both large and compact, are available for use in wide range of settings, including free-standing and submerged situations.